Study in Australia
Posted on: February 22 2019, By : Ayush Varhadi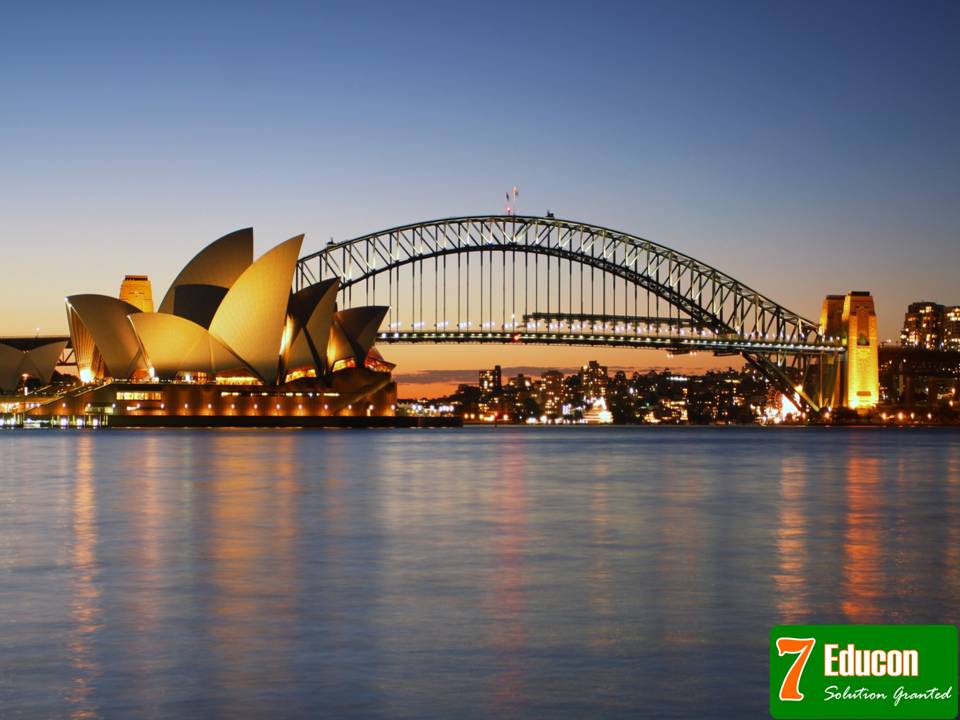 When most people think of Australia, they see wide open spaces of outback bush, kangaroos, koalas and clean air and water. However, Australia has so much more to offer than just that! Many international students are choosing to study in Australia because of its friendly, laid-back nature, excellent education system, and high standard of living.
The standard of Study in Australia is world-renowned, and many expats even migrate to Australia's sunny shores specifically to become students. The national government places a strong emphasis on diversity and quality and is committed to excellence in research, teaching and student support. (
HR Training agency
)
Studying abroad may be slightly daunting, but the reward in terms of education and personal development can also be huge .This diverse country has a huge variety of opportunities for someone studying abroad.

Here are some of the factors behind making Australia an Education Hub:

•
Top quality universities
International students have a wide variety of choice when it comes to studying in Australia. Australia is home to 43 universities in total, with 40 Australian, two international and one private university. It's a case of quality as well as quantity, with six Australian universities ranking in the internationally renowned top 100.
The sheer amount of cultures that abound offers the chance to step outside of your usual comfort zone and experience something new, but also to feel a sense of belonging in the multicultural setting. Some of the benefits of living in a multicultural society include wonderful culinary offerings, public international celebrations and the chance to learn a different language.
Since Australia's universities are some of the top ranked in the world, it's no surprise that they offer a multitude of different degrees and majors. Whether you are studying engineering or English, medicine or Mathematics, there are plenty of different options and combinations to choose from when you study in Australia.
Australia is famous for its diverse terrain. The Outback is legendary for its broad plains and unusual animals. If you're a beach lover, you are spoiled for choice with thousands of kilometres of pristine coast to choose from. During your holidays, you can dive or snorkel on the gorgeous Great Barrier Reef. Bushwalking or kayaking are often achievable within a day trip.
•
Easy access to student visas
If you're looking to get a student visa, Australia offers a streamlined process for the Student Visa (subclass 500). There are several requirements you will need to meet for your application to be approved, including being accepted into an educational institution and having sufficient financial capacity.
•
Internship Availability
Some Australian universities may offer internships or work opportunities to their students. If this is an option that interests you, be sure to reach out to your chosen educational institution to find out any requirements.
•
Approach to vocational and technical education
Australia is considered to be one of the best when it comes to vocational training .The curriculum is designed in a way that it gives a practical approach and is aligned with the career objectives that a student may have. Also, skill based education is given emphasis as it has not only been positively influencing the country's economy but also attracting many international students.
•
Student friendly policies
When considering education abroad, a great part of the decision depends on the return on investment that could be generated on the initial investment that was made. Australian government has set up a framework known as the Australian Qualifications Framework that ensures equal opportunities and recognition for the students who have graduated out of a specific course from any university throughout the country.
•
Research oriented pedagogy
Having rich history in significant researches done by the humankind, Australia promises quality and value in all the courses it offers. The teachers are trained to deliver world-class learning and maintain the unique stature that it has acquired due to their research in Penicillin, Wireless Fidelity, etc. The country also depends on this aspect to increase productivity, achieve sustainable economic growth, create jobs and improve well-being.
•
Bridging the skill shortage gap
The government releases a list that is based on the statistics collected over the year which is a skill shortage list. The list doesn't have any grave changes in a year's time and hence the syllabus of universities is aligned to these lists. This is a small step towards bridging the gap between the learning and skills requirement in the country; having said that, there are hundreds of other subjects that are also available for the students with different career requirements. (
manpower agency
)
Australian universities are located in both rural and urban settings. Wherever you choose to study you will be able to travel to a number of neighboring cities with ease. Each one offers a multitude of unique experiences, from the spectacular Sydney beach scene to the quirky shopping boutiques of Melbourne.
Australia has some of the most diverse wildlife on earth. If you're studying rurally, you might be lucky enough to experience some in the wild. Even if you don't there are plenty of wildlife parks that offer close encounters with koalas, kangaroos, crocodiles and more.
Australians speak English, which makes it easy for most international students to understand and be understood. However, the slang may take a little longer to master! If you're struggling to keep up with conversation try asking someone to explain the slang to you. You'll be amazed at the variations Australians have come up with.
•
Incredible work opportunities
If you truly enjoy your time studying in Australia, you may be tempted to stay on longer. Australia allows some international students to stay in the country and continue to work after they have graduated. International study in Australia offers a wide range of rewarding experiences as well as the possibility for a world-class education.
If you're thinking about studying abroad in Australia, these points are really just the beginning of what Australia can offer. You can get help from the
Top Overseas College Admission Consultant In Mumbai
who will help you with the admission process as well as provide travel, visa and accommodation assistance.
Share this:
Comments :
Comment Not Available